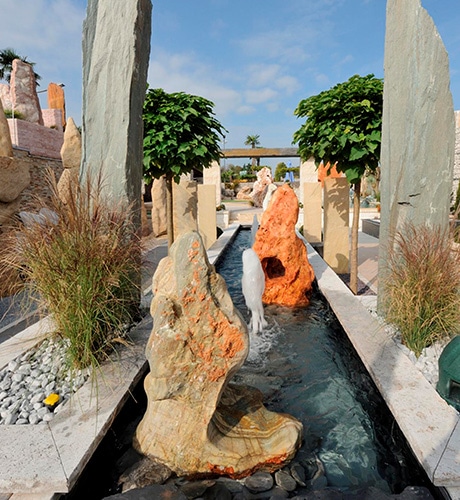 GRANULATI ZANDOBBIO
Granulati Zandobbio is the representative point for the production and distribution of a wide range of products for landscape architecture: sintered stone and natural stone pavings, claddings, monolithes and decorative products for garden and outdoor spaces which reach their cutting edge in STONE CITY, the exhibition green park of 8000 m2 located in Bolgare, Bergamo. Nowadays the activity of Granulati Zandobbio faces 65% the foreign market with exports to 80 different countries.
WHAT GRANULATI ZANDOBBIO OFFERS
• Exclusive products
• STONE CITY, our exhibition garden park as source of inspiration for every visitor
• Products always in stock ( warehouse surface of 200,000 square metres)
• Worldwide selling - export to 80 countries
• Cooperation with the main suppliers in all European countries
• State-of-the-art production plants
• Certificated company ISO 14001:2015 (environmental sustainability) and ISO 9001:2015 (quality)
STONE CITY
THE PERFECT COMBINATION BETWEEN NATURE, DECORTING AND CULTURE OF LANDSCAPE ARCHITECTURE IN ALL ITS FORMS
STONE CITY is a magical eye-catching and suggestive space, source of inspiration for each visitor, who loves landscape architectur: this space let people discover the best architectural solutions for outdoor areas created with products designed by Granulati
The idea of this area goes beyond the concept of a showroom in the open air. This is a park enhaced by several precious plants and essences, where the role of the water, lights and sounds become more and more relevant in decorating modern outdoor spaces.