THE DREAM OUTDOORS DESIGN AND
CONSTRUCTION SOLUTION
---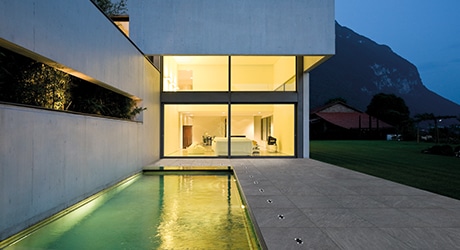 STONE GRES is the outdoor paving line with superior aesthetic features, able to evoke the faithful reproduction of antique stone paving with traditional materials marked by time, natural effect wood slabs or stones that provide a distinctive touch to any garden.
Due to the numerous technical aspects, performance guaranteed by the 20 mm thick sintered stone combined with the beauty offered by the various surfaces, STONE GRES slabs are ideal to create footpaths and passageways in modern gardens including terraces and patios.
WHY CHOOSE STONE GRES
Advantages
---

Will not change over time

Offers a wide range of
finishes and colours

Long-lasting

Resistant to
temperature changes

Resistant to acids,
chemical products, salts

Mildew and moss
will not damage it

Non-absorbent and
therefore easy to clean

Resistant to
heavy loads

Easy and quick laying

Anti-slip

Anti-frost
EASY TO INSTALL,
EASY TO CLEAN
STONE GRES paving is extremely easy to install and lets you protect and preserve your lawn from impacts, insuring an easy to clean, safe and durable surface for your outdoors. Specifically, porcelain step stones represent an essential and ideal way to create passageways, barbecue and gazebo areas, creating walkways and protecting your lawn.
---
INSTALLATION ON GRASS, SAND, GRAVEL
GLUE OR SCREED INSTALLATION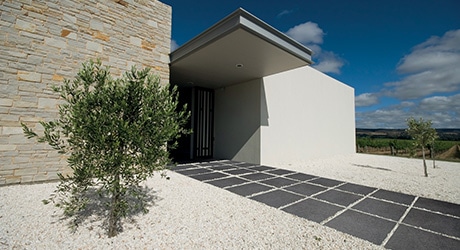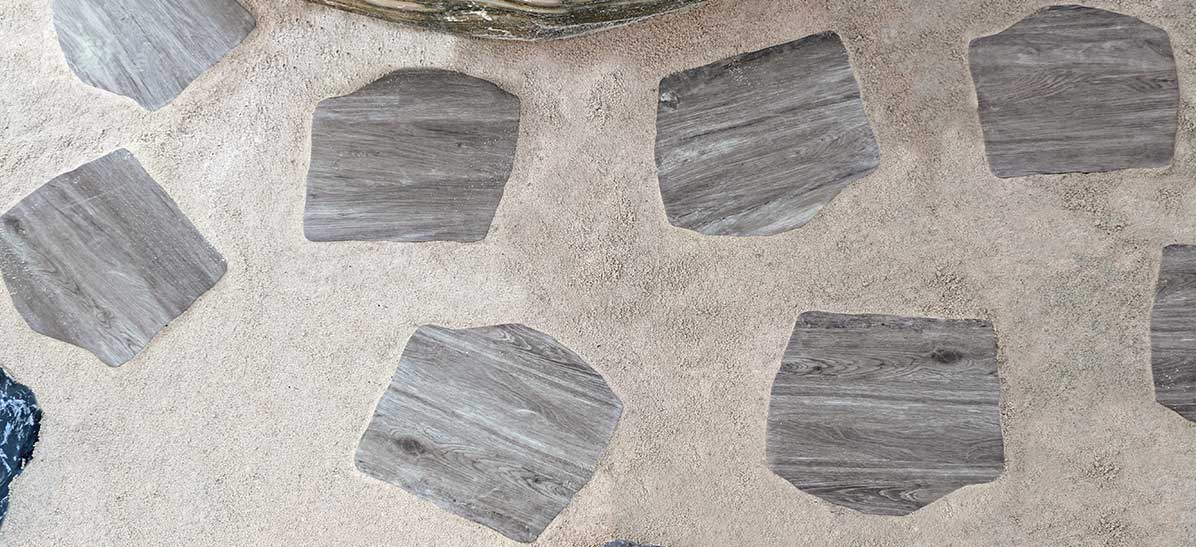 To create a walkway with the step stone you must calculate the total number of steps required to complete the path and place the slabs at equal distances along the entire walkway. To guarantee perfect stability, we recommend digging 5-8 cm in the ground, adding fine gravel and compacting it down before installing the slabs. Submerged in lawns (but also in the gravel), they should not protrude over the lawn surface to avoid damaging lawn mowers when gardening. Lastly, they can be enhances with decorations and plant compositions.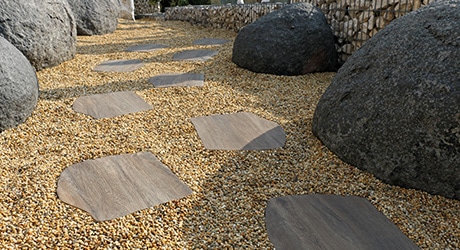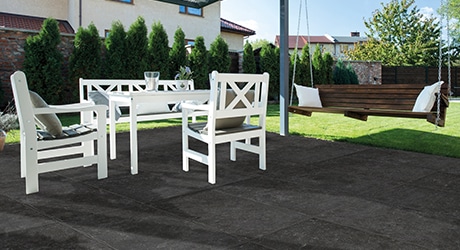 In the Stone Gres paving collection you can find particular slabs with antiqued sides as well.
This line differs from the others for its antiqued sides which, together with the faithful natural stone aesthetic reproduction, give the slabs a greater originality and similarity to natural stones materials.